cover art:
Chicken Hands
by Jeremy Okai Davis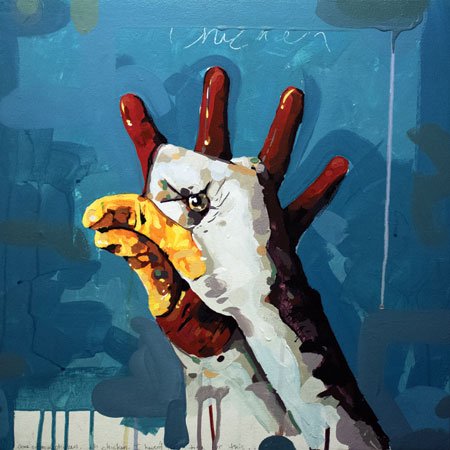 ---
Jeremy Okai Davis was born Charlotte, NC and received a BFA in Painting from UNC-Charlotte. After a few years of trying to push through the North Carolina art scene relocated to Portland, OR in 2007. Splitting his time as a graphic designer and fine artist, he also illustrates for American Songwriter Magazine & has produced artwork for several recording artists.
Davis was selected one of the top 100 Southern Artists by The Oxford American. You can see more of his work online at : work.jeremyokaidavis.com
In the work of Jeremy Okai Davis, color use and fidelity to his subjects make them feel alive, but without being too literal. The work feels really light at first glance, but on closer examination of text and posture, the work is full of conflict, an exploration of the contrast between the shiny, smiling exterior that is frequently presented on the surface and the inner, self-conscious, status obsessed mind state that so many of us endure beneath it all.
Copyright © by Jeremy Okai Davis