Smile
by William Basso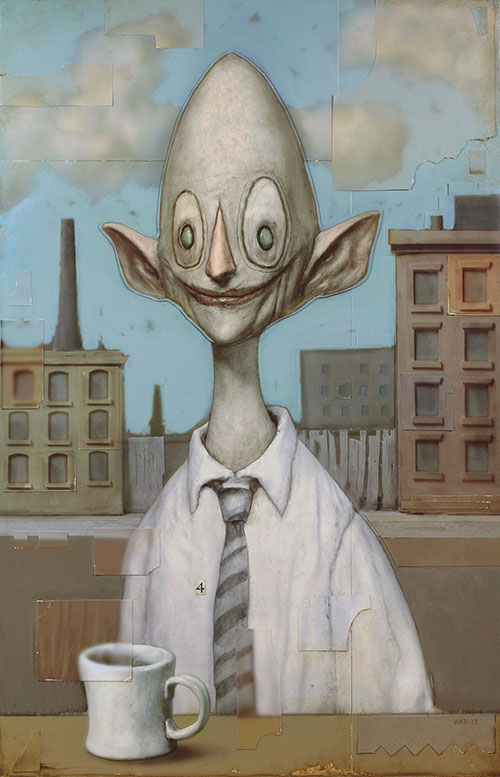 ---
I grew up in a household where both of my parents were artists, so as a child I was surrounded by all types of art from all periods in history, on the walls, in art books, etc., and was also exposed to museums and galleries on a regular basis. I received a BFA degree in illustration from Parson's School of Design in New York City, but I decided to pursue a career in special effects and character makeup for the film industry. I've always loved movies, especially horror, fantasy and science fiction. This made for a rich foundation resulting from not only the influences of my artistic home surroundings but also my own imagination sparked by the pulp fantasies of pop culture. So of course for me it made sense to move to Los Angeles and get into the movie business. After almost twenty years working in films I became interested in exploring my own point of view and began producing personal art. I now live and work in New Jersey.
I would classify my work as mixed-media. I use the camera and the computer as artistic tools like any other. I typically begin a piece by drawing and working out ideas on paper. This is followed by sculpting and constructing a series of miniature, doll-like characters or maquettes, as well as a variety of intricate handmade objects that I then photograph. My photographs are then processed in the computer along with my scanned drawings. Each composition is made up of a number of these visual fragments, all edited using Adobe Photoshop software. I print out sections of my imagery, and using collage techniques, build what will become the final assemblage. The printed pieces are cut, torn, altered, rearranged, etc. The work is constructed with these layers of printed imagery, as well as paint mediums and other media on a panel. Although I usually have a definite composition worked out, the piece evolves and changes as aesthetic passages are revealed. My purely sculptural work is created much like the working maquettes described above but taken to a more complete state.
I think that my work is partially influenced by the past, from things like early cinema, art history, curiosity cabinets and early photography, for example. I'm interested in exploring my own subconscious, a dream world that exists somewhere between a childlike sense of fantasy and adult anxieties. I often draw inspiration from more primitive technologies. Things made with gears, ropes and wooden planks. A hand made feeling. My working methods also have an influence on the theatrical flavor of the pieces, in that I'm creating and working with various fabricated objects and handmade characters. As I'm working, it can feel as though I'm staging a tiny theater piece or perhaps curating a mysterious museum exhibit combined with a long ago forgotten sideshow of curiosities.
My work has been exhibited in a number of galleries around the country as well as being featured in both the SPECTRUM fantastic arts annuals and The Society of Illustrators art annuals.
Copyright © by William Basso